**Offbeat Jibhi, Himachal Pradesh: A Hidden Gem in the Himalayas**
Nestled in the lap of the Himalayas, Jibhi is a charming, offbeat destination that offers a serene escape from the bustling city life. Located in the Himachal Pradesh region of India, this hidden gem is still untouched by the relentless wave of commercialization that has swept through many popular tourist destinations. With its lush green landscapes, pristine rivers, and tranquil atmosphere, Jibhi is a place where time seems to stand still. In this article, we will take you on a virtual journey to Jibhi, exploring its natural beauty, local culture, and the myriad experiences it has to offer. You can also book bike for Jibhi Exploration on Bike .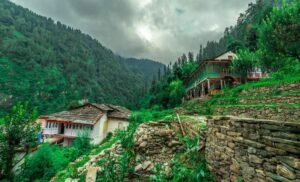 **The Enchanting Beauty of Jibhi**
Jibhi is a paradise for nature lovers and adventure enthusiasts. The mesmerizing beauty of the region lies in its diverse landscapes. The lush green valleys are dotted with apple orchards, and the snow-capped peaks of the Himalayas create a breathtaking backdrop. The Tirthan River flows through the valley, adding to the picturesque setting. The area is abundant with pine and deodar forests, making it a perfect destination for trekking and camping.
One of the most prominent features of Jibhi is its serene ambiance. The place is far from the noisy crowd and offers a perfect escape for those who seek solitude and tranquility. It's an ideal spot for meditation, yoga, or simply unwinding in the lap of nature.
**The Local Culture of Jibhi**
Jibhi is not just about its natural beauty; it's also a place that celebrates the rich culture and traditions of the Himachal Pradesh region. The locals are warm and welcoming, and you can experience their traditional way of life by staying in one of the many homestays that dot the area.
The culture of the region is deeply rooted in Hinduism, and you can witness numerous temples and shrines that are spread throughout the valley. The architectural marvels of these temples reflect the intricate craftsmanship of the local artisans.
One of the most significant festivals in Jibhi is the Kullu Dussehra, which is celebrated with great pomp and show. The whole valley comes alive with colorful processions, traditional dances, and rituals. It's a time when the entire community comes together to celebrate their heritage.
**Adventure Awaits**
For adventure enthusiasts, Jibhi has a lot to offer. The region is a trekker's paradise with numerous trails that cater to all levels of trekkers. The Serolsar Lake trek is one of the most popular ones, leading you to a beautiful high-altitude lake surrounded by dense forests. It's an ideal trek for beginners and offers mesmerizing views of the Himalayas.
Another adventure that you can't miss is trout fishing in the Tirthan River. The crystal-clear waters are home to various species of trout, and fishing is not just a sport but also an excellent way to connect with the local culture. You can fish with local experts who will teach you the art of angling.
If you're seeking an adrenaline rush, white-water rafting on the Beas River is an option. The Beas River is known for its challenging rapids, making it an exciting experience for adventure seekers.
**A Culinary Journey**
Himachal Pradesh is known for its delectable cuisine, and Jibhi is no exception. The local food is a delightful blend of flavors and aromas. You must try the traditional Himachali dishes like Dham, Chana Madra, and Babru. These dishes are prepared with a combination of lentils, vegetables, and spices that tantalize your taste buds.
Don't forget to savor the local apples that are grown in abundance here. Jibhi is known for its apple orchards, and you can enjoy freshly plucked apples or savor apple-based dishes and beverages.
**Homestays and Accommodation**
Jibhi offers a unique accommodation experience through its homestays. Staying with local families not only gives you a glimpse into their culture but also allows you to live like a true Himachali. These homestays are often cozy wooden cottages with warm interiors and traditional Himachali architecture.
If you're looking for a more upscale experience, there are a few boutique hotels and resorts in the vicinity. They offer modern amenities while still retaining the rustic charm of the region.
**Included:**
1. **Dinner:** Indulge in a delightful culinary journey with dinner served at the River Resort Jibhi. Enjoy a variety of mouthwatering dishes amidst the serene natural surroundings.
2. **Breakfast:** Start your day on a delicious note with a complimentary breakfast at the resort. Savor a hearty morning meal to energize you for your day's adventures.
**Excluded:**
1. **Lunch:** Please note that lunch is not included in your stay. You can explore local dining options or dine at the resort's restaurant for an additional charge.
2. **Alcoholic Beverages:** Alcoholic beverages are not included. You can choose from the resort's selection of drinks at an extra cost.
3. **Activities and Excursions:** While your stay includes accommodation and meals, any additional activities or excursions will be charged separately. Explore the various adventure and sightseeing options available during your stay.
**Exploring Nearby Attractions**
While Jibhi is an attraction in itself, there are several nearby places that you can explore during your visit. Some of the must-visit places include:
1. **Tirthan Valley:** Just a short drive from Jibhi, Tirthan Valley is another pristine destination offering numerous trekking opportunities and beautiful landscapes.
2. **Gushaini:** A picturesque village near Jibhi, Gushaini is known for its trout fishing and serene ambiance.
3. **Jalori Pass:** A high-altitude pass that offers stunning views of the surrounding peaks and is a starting point for many treks.
4. **Great Himalayan National Park:** A UNESCO World Heritage Site, this park is home to a wide variety of flora and fauna. You can explore the park on guided treks and wildlife safaris.
5. **Shoja:** Another peaceful village with breathtaking views of the Himalayas. It's a great place for birdwatching and nature walks.
**The Best Time to Visit Jibhi**
The best time to visit Jibhi is during the summer months from March to June and the autumn months of September to November. During these seasons, the weather is pleasant, and you can enjoy the outdoor activities without any hindrance.
However, if you're a fan of snowfall and winter sports, visiting Jibhi during the winter months (December to February) can be an enchanting experience. The entire valley gets covered in a blanket of snow, and you can indulge in snow treks and skiing.
**In Conclusion**
Jibhi, Himachal Pradesh, is a hidden gem that offers a unique blend of natural beauty, local culture, and adventure. It's a place where you can escape the chaos of city life and connect with the serenity of the Himalayas. Whether you're seeking tranquility or adventure, Jibhi has something to offer for everyone. So, plan your trip to this offbeat destination and experience the magic of Jibhi for yourself.
Additional information
| | |
| --- | --- |
| Price | Couple, With Children, 2 Children, 4 Adults |